The Mission Manhole Monitor is a complete sewer overflow tracking and alarm system designed to be installed in Combined Sewer Overflow (CSO) and Sanitary Sewer Overflow (SSO) locations. It includes the Manhole Monitor RTU, two quick-connecting floats, an in-road antenna and installation hardware. Avoid spills and high level conditions with early notifications.
Track Manhole Surcharges and Overflows
Floats tipped by surcharges and high levels signal Mission servers to initiate notifications via phone, email, text message, fax and pager. Secure web portals display the time and duration of the events.
Simple to Install and Maintain
The Manhole Monitor is battery operated with quick connecting antenna and float terminations for fast and easy installation. The cellular device installs in the chimney of the manhole using a versatile mounting bracket. The bracket allows the waterproof device to swivel upward during maintenance for convenient viewing. The unique in-road antenna installs adjacent to the manhole. Installation can be completed with common tools and does not require manhole cover modifications or entry into the manhole.
Waterproof, Self-Contained and Safe in Sewers
The completely redesigned, all metal enclosure is robust and serviceable. It features a replaceable battery and isolated termination and electronic cavities. The device meets requirements for use in Class 1 Division 1 Groups D-G, T1 hazardous environments. It is designed and tested to IP68 specifications for submersion up to depths of ten feet for four hours and four feet for twenty-four hours.
User Friendly
Startup is simple with a sixteen character LCD that validates proper operation and displays optional advanced configuration settings. The user accessible pushbutton switch allows navigation through the display. Alternate languages can be selected.
Reliable Communications
The advanced Manhole Monitor features fourth generation (4G) radios for reliable data transmissions. The device features fully acknowledgeddata payloads - unlike SMS messages. There are no radios to program, cellular contracts to set up or software programs to buy.
Managed Service – The Complete Package
The service includes all communications, data storage, alarm call outs, reports and technical support. Alarm conditions are recorded and reported in real time while device health status is transmitted daily. All data and reports can be accessed from any web-enabled device. No engineering or programming is required.
Long Operating Life
The ultra-efficient circuitry draws minimal power from the field replaceable battery. This makes the low-power device capable of routine daily transmissions for over five years.
In The News
The Department of Public Works' sanitary sewer overflow program in Baton Rouge, La., is in the process of installing sewer overflow alarm and tracking devices in approximately 20 manholes to solve overflow problems throughout the city. City officials are optimistic about the devices, stating that it makes them proactive, rather than reactive. Installation of the monitoring devices will be completed by the end of September 2015. Click here to see news coverage reported by the area's local ABC affiliate.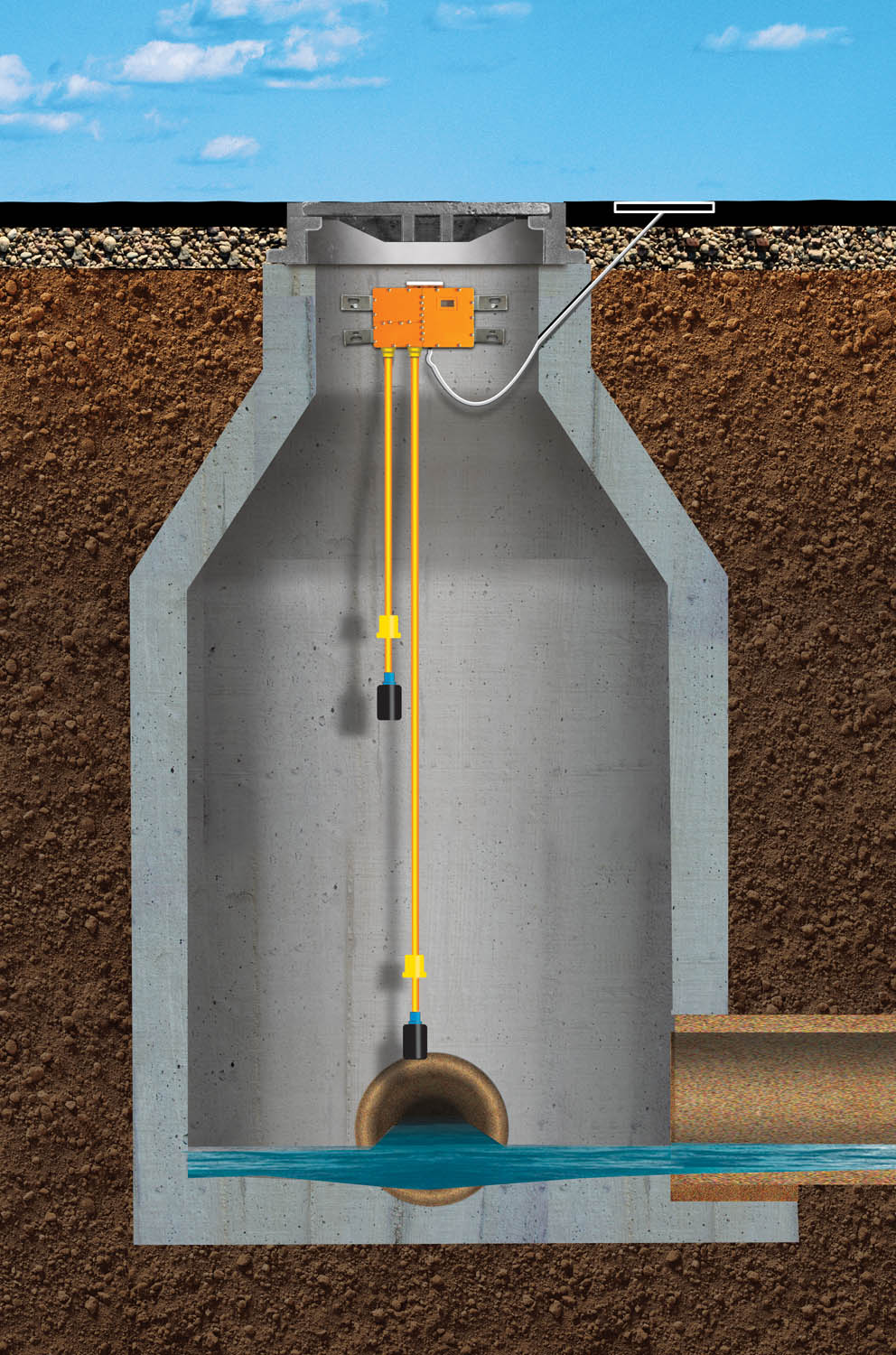 Manhole Monitor Video
Watch the video and decide for yourself.
| | |
| --- | --- |
| Feature | Benefit |
| Wireless SSO/CSO reporting system | No power or phone lines to install |
| Installs from the surface | Confined-space-entry permit not required |
| FCC approved; Exposed hardware is 316 stainless steel | Corrosion resistant, "set it and forget it" |
| Includes two level floats and replaceable 5-year battery | Nothing else to buy |
| Test message sent every day. | Documents cellular channel signal strength and battery level |